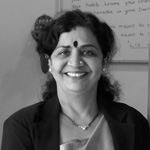 Dr. Kshama Kulhalli
Associate Professor & HOD
Information Technology deals with the issues of extracting information and building knowledge for management information system, mining the statistical data for business enterprises and to predict future trends. It deals with the use of the computer, computer software to convert, store, protect, process, transmit and securely retrieve information. It also deals with study, design, development of computer-based software applications and computer hardware.
The syllabi are flexible and wide-ranging incorporating the cutting edge technology, as ensuring a firm grasp of core fundamental education and enriching experience. With regular sporting, culture and extra & co-curricular activities help to nurture multiple facets of students personality & achieve excellence in varied fields. The Department has young dedicated dynamic, qualified faculty members and the students are encouraged to ask questions, pursue the latest information. There is a relaxed friendly atmosphere but with a constant buzz of excitement due to many well-known visitors including giants from industry, scientists and leaders of government from all over.
The department encourages the students and staff to take up higher studies after their graduation. Department has procured material for GATE, CAT, GMAT and also provided study material like question papers, preparatory notes, laboratory journals.