1
Microprocessor & Programming

1.Dell Optiplex 3020[15 Quantity]
2.Printer HP Laserjet1020 Plus
3.Rudra – 6KVA DC /V- 120V UPS
4.Microprocessor Kit [12]

Software/Packages- Open Source Software

( Ubuntu OS with GCC packages)

2
Computer Network



1.Dell Optiplex360[18 Quantity]
2.Renutron -6 KVA UPS
3.Router, Switch, Patch Panel with CAT6 cable, RJ45 port, LAN tester, crimping and punching tool with connector.

Software/Packages- Open Source Software

( Ubuntu OS with G++ packages)

3
Computer Graphics



1.Dell Optiplex 3010[18 Quantity]
2.Printer-HP LaserJet 1522nf
3.Renutron 6KVA 120v UPS

Software/Packages- Open Source Software

( Ubuntu OS with Blender, Synfig Software)

4
Programming Language – 1

1.Dell Optiplex 3020[23 Quantity]
2.Renutron 6KVA 120V UPS

Software/Packages- Open Source Software

( Ubuntu OS Ubuntu OS with JDK packages)

5
Web Technology



1.Dell Optiplex 390[17 Quantity]
2.Epson LQ 1150 Dot Matrix Printer
3.Ruckus Access Point
4.Emerson network power 6KVA UPS

Software/Packages- Open Source Software

( Ubuntu OS with WAMP, XAMP packages)

6
Distributing Computing



1.Dell Optiplex 3010[19 Quantity]
2.HP laser jet printer P1008
3.Renutron 6KVA 120v UPS

Software/Packages- Open Source Software

( Ubuntu OS Ubuntu OS with GCC, open JDK packages)

7
Project



1.Dell Optiplex 3020[19 Quantity]
2.Canon lbp6030w Printer
3.Renutron 6 KVA/120V UPS

Software/Packages- Open Source Software

(Ubuntu OS with GCC, G++ packages )

8
Database Engineering



1.Dell Optiplex 380[18 Quantity]
2.Rudra 5KVA/120v UPS

Software/Packages – Open Source Software

( Ubuntu OS with Oracle Student edition )

9
System Programming

1.Dell Optiplex3020[24 Quantity]
2.Rudra 6 KVA UPS

Software/Packages – Open Source Software

( Ubuntu OS with GCC,open JDK packages)

10
Post Graduate & Research Lab



1.Dell Optiplex 390[20 Quantity]
2.Canon Image CLASS MF4820d All in One
3.EMERSON UPS 6 KVA, Libert Make

Software/Packages – Open Source Software

(Ubuntu OS with GCC, G++, open JDK packages)

11
Programming Language – 2



1.HP 280 G3 MT [ 23 Quantity]
2.Printer-Canon LBPb030w
3.Rudra 6KVA UPS

Software/Packages – Open Source Software

( Ubuntu OS with open JDK packages )

12
Programming Language – 3



1.Dell Optiplex 360[18 Quantity]
2.Renutron 6KVA 120V UPS

Software/Packages – Open Source Software

( Ubuntu OS with G++, open JDK packages)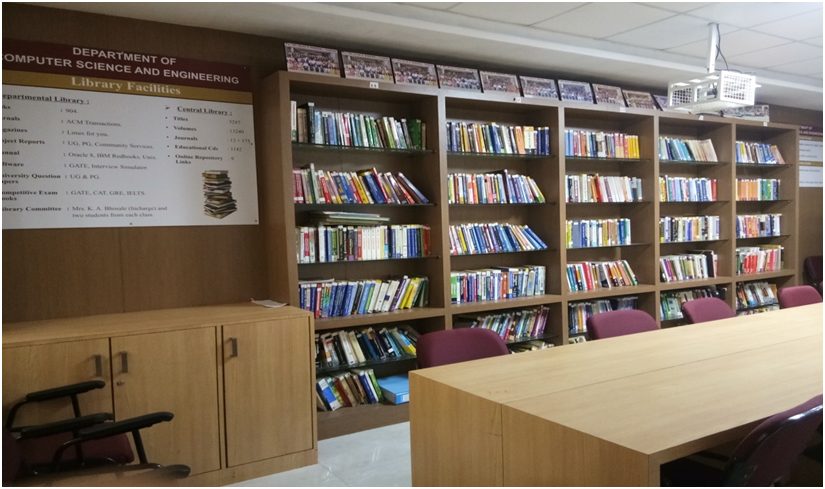 • Number of books:1357
• Subscribed Magazines: Linux for you monthly
• News Letter: Dream 2047,Teacher's Movement
• Journals(print):ACM transaction on different area(6subjects year -2013)
• UG Project reports, PG dissertation reports, Community services reports.
• Syllabus of SE,TE,BE for CSE
• Competitive Exam books: Puzzles by shakuntala devi, Computer science question bank, communication skill book etc
• Manuals: various IBM REDbooks, Oracle7, 8.
• Softwares: GATE simulator, Interview Simulator
• Book reading facility available
• Book requisition forms available(for staff & students)
• Journal Publication of CSE faculty & PG Students
Sr. No.
Server Name
Server Configuration
1
Private Cloud
3 Nodes (CS414) : AMD 2.7 Ghz, Quad Core, 48 GB, 18* 1 TB, 6*60 GB SSD
Node 1: NAS (Own Cloud App).
Node 2 : Debian Server Operating System (Cloud) with virtual Machines – Ubuntu 16.4, Fedora 18, Mint 15, Windows 7
Node 3 : Debian Server Operating System

Front End : Proxmox GUI

2
HP ProLiant DL60
Xeon E5, 8 Core, 32GB, 2*600 GB SAS
3
HP (Squid Firewall)
Xeon Quad Core, 4 GB, 120 GB SSD
4
DELL Rack

(Windows 2008, Moodle)

Xeon Quad Core, 4 GB, 500 GB
5
DELL Tower

(Windows 2012, PG Software)

Xeon Quad Core, 4 GB, 500 GB
Server Room Facilities
Departmental Private Cloud (Virtualization Environment)
Department of Computer Science and Engineering has its own Private Cloud configured on Three Zenith Rack Servers having huge computing capacity.
Departmental Firewall
Department has its own Firewall placed on Separate Server on which all the departmental computers get filtered Internet by many rules.
Departmental Moodle facility
Department has Three Moodle server configured on dedicated servers by which students can able to perform online submission , attend online exam and Many more.
Departmental WiFi Facility
By this department Provide WiFi service to Students through Dedicated WiFi Routers.
Departmental FTP facility
FTP server is configured on separate server by which student can get many Open Source software without internet facility.