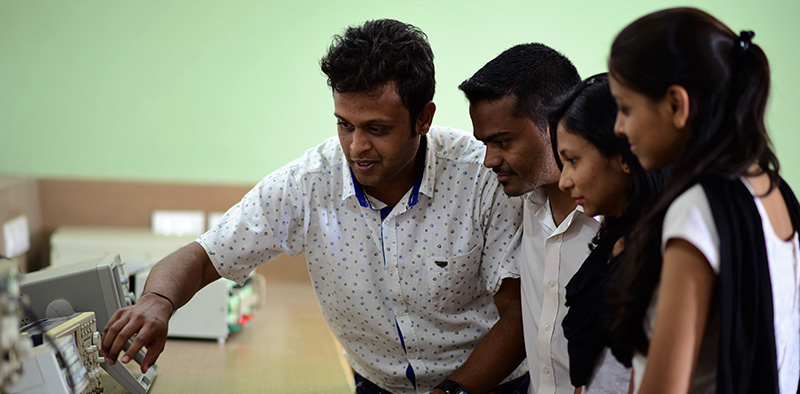 UG Degree course offered
B. E. (Electronics Engineering)
UG Course Duration
4 years
UG Year of Establishnment
1984
UG Intake
60
PG Degree course offered
M. E. (Electronics & Telecommunication Engineering)
PG Course Duration
2 years
PG Year of Establishnment
2008-09
PG Intake
18
Ph.D/ Research centre
2014-15
Approved by
AICTE, New Delhi
Affiliated to
Shivaji University, Kolhapur
Accreditation Status
NBA Accredited ( 2012-15)
NAAC Accreditation in Process
The Department of Electronics Engineering offers UG programme in Electronics Engineering ,Post Graduate Programme in Electronics & Telecommunication Engineering and research programme leading to Ph.D. degree in Electronics & Telecommunication Engineering affiliated & recognized by Shivaji University.UG Programme is accredited for three years by National Board of Accreditation (NBA) & NAAC accreditation is in Process. There are 10 well equipped, well connected and sufficiently staffed labs which includes a PG lab exclusively for research work. It is Proud to mention that our academic results are excellent with students securing among top ten ranks in Shivaji University every year and they also qualify for competitive examinations like GATE, GRE and GMAT. Our Alumni are now at the top positions in various organizations. The students body EESA has been actively organizing and also participating in various technical activities and social welfare events. Department has signed an M.O.U for Skill development & Value added international certification course for students in Embedded Systems & PLC/SCADA with Purple Leap Bangalore, division of Pearson Education Pvt. Ltd, Electronic Sector Skill Council of India, Texas Instruments & Prolific Systems Pune.